<#include '/gkmsid/9058821'>
<#include '/gkmsid/9058821'>
Jose Mourinho says he "didn't learn anything" from Manchester United's pre-season tour because he already knows about his players.
It has been a tumultuous trip to the USA for the United manager, who has had complaints about most things when asked, including missing key players, extended holidays and transfers.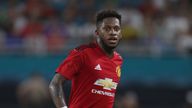 Sanchez shines, Fred faultless
Alexis Sanchez and new signing Fred caught the eye as Man Utd concluded their US tour with victory over Real Madrid.
But his trip ended on a high as United beat Real Madrid 2-1 in Miami in the International Champions Cup, although Mourinho does not believe he has gained any knowledge about his included first-team players.
Source:Skysports.com
<#include '/gkmsid/9058821'>